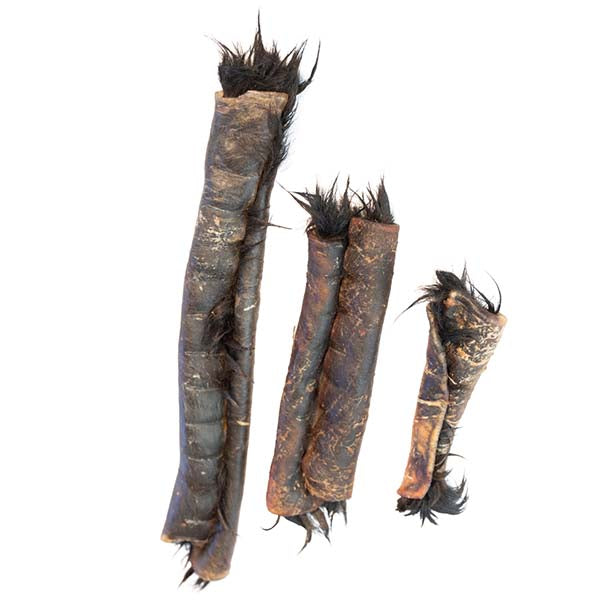 The Last Dog Chew You'll Ever Need
We've poured months of research into creating the ultimate dog chew. And while it isn't much to look at, it absolutely overperforms. Dogs love Ugly Chews. They last longer than any other chew we've tested. And to top it all off, they are locally handmade, sustainably sourced, and zero-waste. We are so confident that Ugly Chews will change your life that if you don't like them, we'll just give you your money back. No boxing it up or shipping it back or anything like that. Just every single penny back to you. Plus we pay the shipping.
Let's recap:
All-natural, chemical-free, additive-free, single ingredient.
Holds up to aggressive chewing
Dogs love them
Free shipping, easy refunds, literally no risk whatsoever
Try an Ugly Chew. Your dog will thank you.
Common Questions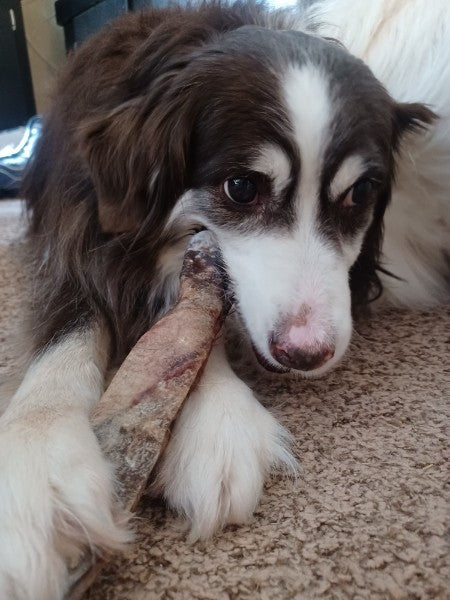 Are Ugly Chews Safe?

Ugly Chews are significantly safer than "conventional" rawhide. Most commercial rawhide has been saturated with tanning chemicals and shaved to leave only a small portion of the skin. That makes them break easily and can cause blockages in your dog's throat or digestive system.

Ugly Chews are made from fresh, whole cowhide. No processing, no chemicals. And just like wolves, coyotes, and dingoes don't choke when chewing the hide of their prey, your dog is unlikely to choke on an Ugly Chew.

Now there are always exceptions. We do our best to make our products as safe as possible, but you should still monitor your dog while they chew. Anything that fits in your dog's mouth is a choking hazard, so be sure to take the last chunk away when it gets small enough to be swallowed whole.

Always supervise while chewing, and we suggest a set chew time every day. One chew should last your dog multiple sessions. While the hair on our hides has many benefits, chew time should be limited to help avoid blockages.

Our hides are washed and disinfected by UV, but not chemically disinfected, so there is always a small risk of bacteria, especially if not stored properly. And of course, our beef hide chews aren't safe if your dog is allergic to beef.
Why Are They So Ugly?

To be fair, they aren't ALL ugly…but most of them are. And that's because nature is imperfect. We don't have a cookie-cutter factory dying and shaping every chew to the exact same shape and color.

Our chews are made from cows that have been out in pastures, and often spend summers grazing in the mountains. They have scars and imperfections. We also hand-cut our chews so there may be uneven edges.

And sometimes you'll get a REALLY ugly chew. To keep our zero-waste focus, we try to use every scrap we can, which sometimes leads to some wild-looking pieces. We toss these quirky chews into normal orders as free bonuses, just so they don't go to waste.
How Long Will A Chew Last?

Chewing time will depend on the dog, but if you have the appropriate size, a single hide chew should last 2-6 hours of active chewing. It's recommended to only let your dog chew in 15-20 minute sessions, which helps extend the life of the chew and keep your dog in optimal health. Monitor your dog and make sure you're getting multiple sessions per chew.

Durability is an important element of a good chew, so we tested ours with dozens of dogs of all sizes, ages, and temperaments. They are made for strong chewers!
Can My Dog Eat Hair?

Yes! Hair may actually be helpful in cleaning out a dog's digestive system. Most people are a little unsettled by the hair at first, but your dog naturally wants to eat hairy, furry things. That's part of why they want to chew on a fuzzy slipper or tear the stuffing out of their bed.

While eating hair is beneficial in moderation, it shouldn't be taken to extremes. Your dog shouldn't be chomping down a whole hair-on chew every day. One chew should last multiple chew sessions.
"No pieces have broken off, it doesn't smell, and it still has an amazing amount of life to it. He chews through big, big bones in a matter of hours. I am thoroughly amazed at how well this chew is standing up to him!"